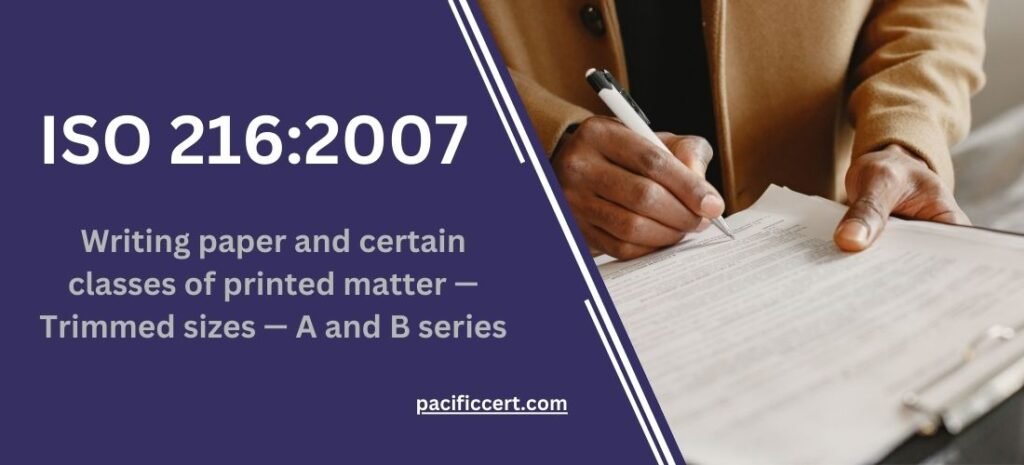 Writing paper and certain classes of printed matter — Trimmed sizes — A and B series, and an indication of machine direction
ISO 216:2007 specifies international standard (ISO) paper sizes, used in most countries worldwide today with three series of paper sizes: A, B, and C. Series C is primarily used for envelopes.
ISO 216:2007 specifies the trimmed sizes of writing paper and certain classes of printed matters
It applies to trimmed sizes of paper for administrative, commercial, and technical use. And also to certain classes of printed matter. Such as forms, catalogs, etc.
The ISO A series of sheet sizes are based on a constant width to length ratio of 1:√2 (rounded to the nearest millimeter). The A0 size is defined as having an area of one square meter (1 m2). In fact, Paperweights is expressed in grams per square meter.
ISO 216 does not define sizes larger than A0 or B0. With the German standard DIN 476 "Trimmed sizes of paper" the sizes can be expanded by using a factor in front of the size:
2A0 is twice the size of A0
4A0 is four time the size of A0
Each smaller sheet size is exactly half the area of the previous size.
Moreover, It does not mainly apply to newspapers, published books, posters or other special items which may be the subject of separate International Standards.
Also, ISO 216:2007 specifies the method for the indication of the machine direction for trimmed sheets.
For more info regarding ISO 216:2007, please contact us at +91-8595603096 or send us an email at support@pacificcert.com
Read About: ISO 2108:2017(EN)