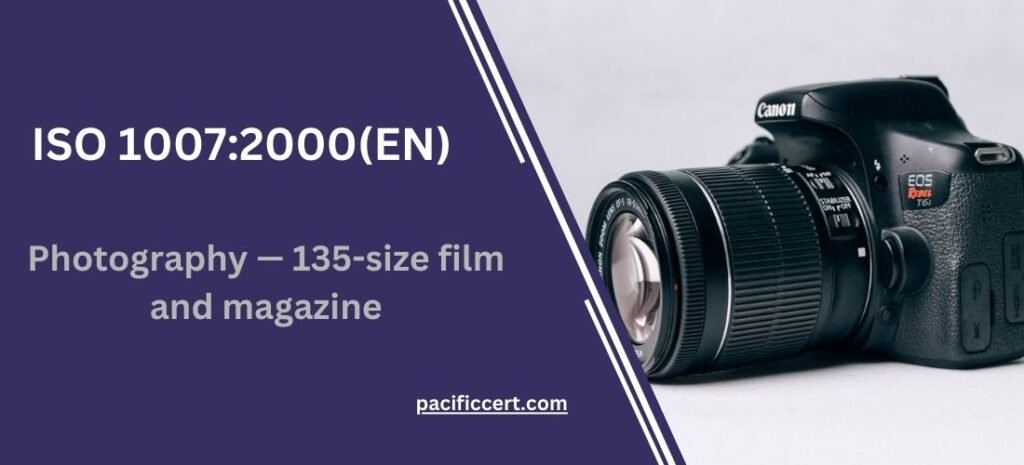 Photography — 135-size film and magazine
Specifications
ISO 1007:2000 was created by Technical Committee ISO/TC 42, Photography. ISO 1007:2000 is the third edition. It was canceled and replaced by the second edition (ISO 1007:1995) which has been revised technically.
ISO 1007:2000 includes the following significant additions and changes:
a) A clause for definitions has been added in order to assist the reader of ISO 1007:2000 in the proper interpretation of the information presented.
b) A specification has been added for the single-track frame-number bar-codes. Specifically the relationship of the eye-readable frame-number to its bar-code.
c) In the dual-track frame-number bar-code system, encoding of frame numbers greater than 36A has been incorporated.
d) The element width for the dual-track frame-number bar-code has been changed to allow element widths to be "narrower" than in the previous edition of ISO 1007:2000(EN)
e) The magazine bar-code system has been modified to allow for additional film lengths (digit 6). As well as a change to digit 1 for additional flexibility.
f) Since part of 9.3 (DC electrical characteristics) was judged to apply to the test, it has been moved to informative annex B. It is now consistent with the philosophy that test methods generally be documented only in informative annexes.
g) The text regarding how manufacturers shall be assigned DX numbers has been improved significantly. A new method of using the magazine bar codes has been added to allow additional flexibility.
h) Several issues that were included in the informative annexes of the second edition ISO 1007:2000(EN) were judged to be obsolete. They have been removed in the interest of simplifying this revision, for example, measurements and calculations for estimating the location of film edges and measurement of velvet stiffness.
ISO 1007:2000 specifies the following:
dimensions of film lengths;
latent-image frame numbering;
latent-image digital bar-codes to identify the film DX number;
dimensions of daylight-loading film magazines for use with 135-size cameras;
a magazine bar-code that identifies the film's DX number as well as the number of exposures;
camera auto-sensing areas, which provide an electrically readable en-codement of film speed, number of exposures, and recommended exposure latitude for use with appropriately designed cameras;
an information panel on which the film identification, speed and number of exposures are visible through a window in the back of appropriately designed cameras;
film pull-out force specification;
film-spool attachment strength specification.
ISO 1007:2000 is not intended to apply to "bulk" 35-mm film used for reloading into 135-size magazines, nor to the reloadable magazines themselves. Also, it does not apply to 135-size film and magazines that are used in single-use ISO 1007:2000
If you need more support with ISO 1007:2000, please contact us at +91-8595603096 or support@pacificcert.com
Read About: ISO 1004-1:2013(EN) INFORMATION PROCESSING